What should be included in a Financial Procedures Manual?
---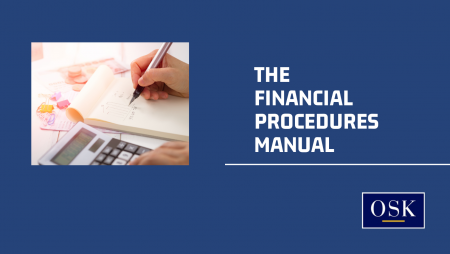 Every organisation should have a financial procedures manual in place to ensure good corporate governance and internal control. This should be reviewed and updated regularly.
This article addresses what is required within a Financial Procedures manual.
Financial Management is one of the key ways an organisation has for measuring its performance and is therefore a vital component of every organisation.
Underpinning all Financial Management systems is a series of financial policies and procedures which guide the operation and lay out of how your organisation uses and manages its money. The financial procedures manual brings all these policies and procedures into one document. It helps to establish internal controls within your organisation which will ensure accuracy, timeliness and completeness of all your financial data. It is imperative that your organisation has a financial procedures manual in place.
There is no one model layout of a financial procedure's manual. Below are the content headings of a typical financial procedures manual which can act as a starting point for your own manual to be adapted for your organisation's requirement, structure, and activities.
What should be included in the Financial Procedures Manual?
1. Financial Responsibilities
Organisation chart
Delegation of authority
Corporate structure
Reserves policy
Directors interests
Segregation of duties
2. Budgetary control and monitoring
Annual budget process
Monthly review process
Monthly management reporting
Review of budget v actual
Variance analysis and investigation
 3. Controls on Income
Grants / Sponsorship / Affiliations fees
Procedures in place to ensure restricted funds meet the terms and conditions of the funding organisation
Invoicing and credit control / debt collection
Pricing
4. Controls on Expenditure
Procurement: policies and guideline
Purchase ordering system (limits / authorisation)
Petty cash policy
Payments
Staff expenses / expense claim forms / mileage and subsistence policy and rates
5.  Controls on financial assets /record keeping
Bank mandate and cheque signatories
Online banking policies / access
Credit card policies (limits / authorisation)
Cash handling
Accounting records / Tax returns
Monthly reconciliations
Annual reporting requirements
6. Controls on Human Resources
Staff recruitment policy
Staff salaries
Temp staff / consultants 
Promotion policy / review policy
Annual leave policy
7. Controls on physical assets
Property and equipment
Insurance
Computer software and data access policy
Stock
8. Policies and procedures for GDPR
Internal control effectiveness needs to be monitored and subject to regular review by the board.
The management team in your organisation are responsible for managing risks through maintaining an effective system of internal control and the board as a whole is responsible for reporting on it.
For effective governance within your organisation your internal controls, financial policies and procedures needs to be documented in your financial procedures manual, communicated to all staff, reviewed regularly, and be embedded in your organisation.
For further information on a Financial Procedures Manual or in relation to OSK audit and accounting services please contact Deirdre McDermott.
Share this Post