The Companies (Accounting) Bill 2016
---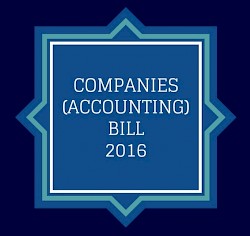 The Companies (Accounting) Bill 2016 was finally published on 5 August 2016.This Bill transposes the EU Accounting directive 2013/34/EU which was expected to be enacted in mid July 2015.
It is important to note that this is currently at Bill stage and no time period has been given as to when this will be enacted into law. The contents of this Bill cannot be utilised until it is enacted into law. It is expected this will be in the near future so that accountants and companies can finally utilise Section 1A of FRS 102 and FRS 105.
A number of differences from the existing legislation are:
An increase in the current size thresholds for small and medium companies together with the introduction of thresholds for a medium group and micro company thresholds.
See existing and new proposed thresholds below:
| | | | | |
| --- | --- | --- | --- | --- |
|   | Small Company | Small Company | Medium Company | Medium Company |
|   | Existing | Proposed | Existing | Proposed |
| Turnover | </= €8.8m | </= €12.0m | </= €20.0m | </= €40.0m |
| Balance Sheet total | </= €4.4m | </= €6.0m | </= €10.0m | </= €20.0m |
| Average EEs | </= 50 | </= 50 | </= 250 | </= 250 |
A reduction in size criteria for holding companies exempt from preparing consolidated financial statements. Under the proposed Bill all companies other than small or micro group's (that can avail of the small or micro companies' regime) must prepare consolidated financial statements. Currently all medium sized groups avail of this exemption which will not be permitted under the proposed Bill.
An increase in the number of groups and small companies that can avail of the audit exemption and/or file small company abridged financial statements if applicable as a result of the increased thresholds.
The ability for medium companies to file abridged financial statements will no longer be available.
Once the small company definition is met then that company can qualify for the small companies' regime which is not currently included in existing law. This will allow companies to adopt Section 1A of FRS 102 which cannot currently be adopted by Irish companies. Section 1A of FRS 102 requires the financial statements to be prepared using the recognition and measurement requirements of FRS 102 but to use the disclosure requirements of the Companies Act small companies' regime as opposed to the more detailed disclosure requirements of each of the Sections within FRS 102.
Contact Dylan Byrne Director in OSK Accountants for further details on the Companies (Accounting) Bill 2016 or in relation to our tax and accounting services.
Share this Post