P35 2015 Deadlines and Information
---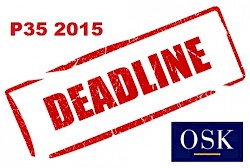 The P35 2015 Deadline is the 15th February 2016. The extended date for ROS customers who pay and file is the 23rd February 2016.
There are two methods available to file your P35:
Revenue Online Service
ROS provides the facility to securely file the P35 Return on-line and to pay any balance due on-line by debit /credit card or ROS debit instruction. The P35 Return can be filed via ROS if a ROS compatible computerised payroll or a manual payroll is used. 
Paper return
If a manual payroll is used a paper return consisting of an original P35 Declaration, original P35L(s), P35 LF and P35L/T(s) should be submitted.
Please note that mandatory efilers could face a penalty for not making an electronic payment or filing a return and the penalty is €1,520. For example in each instance where the taxpayer does not pay electronically the penalty is €1,520 and in each instance where the taxpayer does not file electronically the penalty is €1,520.
Prosecutions/Penalties
As an employer you may face criminal proceedings for the non-submission of a P35 return and you may be liable to a fine of up to a max of €5,000 or to a term of imprisonment.
Failure to submit a complete P35 return by the 15th February deadline will make you liable to a penalty up to a maximum of €4,000 and you also risk a possible revenue audit.
It may cause your employees unnecessary difficulty and delay when claiming social welfare benefits.
Important Points
Make sure to include all employees who worked for you, at any time during the year, on your return.
There should only be one entry for each employee. Add the total for each period of employment and show only the overall total.
If you had no employees in the period you still need to file a nil return.
Point to note - Medical Insurance
Where an employer pays Medical Insurance as a benefit in kind, the 'Medical Insurance Premium eligible for tax relief paid by employer' field on the P35L must be completed. The amount of Medical Insurance eligible for tax relief is capped at €1,000 per adult and €500 per child. For policies renewed or entered into on or after 1 May 2015, the full adult maximum amount of €1,000, or the relevant premium where this is lower, applies for all individuals aged 21 and over, regardless of whether they are availing of a child premium.

Example
Gross premium paid (in respect of a single-person adult policy) by employer in 2015: €1,500
P35L 'Medical Insurance Premium eligible for tax relief paid by employer': €1,000
P60's
All employers must print P60s on their own stationery as Revenue is no longer making P60 stationery available for employers to print P60s. If you are making your return on ROS you must now print P60s onto your own blank stationery. A template of the Revenue P60 is available on ROS and you can print P60s onto blank stationery from this template. The P60 template is also available through Payroll Software providers.
Note: P60s should only be given to employees in employment with the employer on 31st December 2015.
Sarah Dunne is Audit Manager in OSK. Contact OSK Accountants Dublin for queries on your P35 return or in relation to any tax and accounting matter on 01 439 4200.
Share this Post
Post Tags