OSK Financial Accounting lecture series to Sports Administrators
---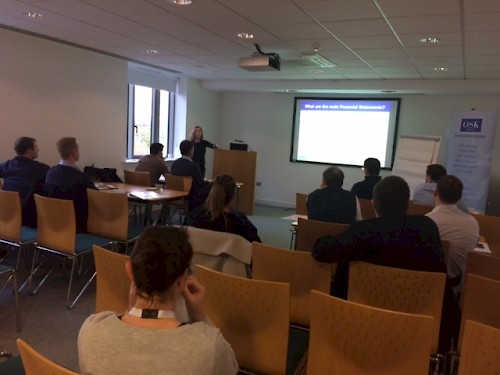 An Introduction to Accounting and Financial Management for Sports Administrators
Overview
OSK are presenting a series of lectures to the Federation of Irish Sports on An Introduction to Accounting and Financial Management for Sports Administrators
The lecture series is designed to introduce participants to financial management principles relevant to their work within sport. Topics to be covered will include budgeting, cash flow forecasting, interpretation of financial statements, taxation as well as financial systems and control.
This lecture series is aimed at people working in the sports industry who want to increase their insight into financial management and increase their understanding of financial statements, budgeting, cash flow forecasting, internal controls, taxation and company law.
Introduction and Interpretation of Financial Statements
The first in the series was presented by Deirdre McDermott -  Director in OSK to members of the Federation of Irish Sport on March 7th in Sports HQ.
Deirdre provided an introduction to basic principles of accounting. She highlighted best practice principles regarding the recording and analysis of an organisation's financial activities.
The session was interactive using practical examples to enable participants to improve their reading and analysis of an organisation's financial reports, especially the primary financial statements, the Income and Expenditure Account and Balance Sheet.
The next presentation will focus on budgeting and how to prepare and stress test budgets. The session will also outline how an organisation should look to set up its budgetary process.
For further details please contact Deirdre McDermott - Director OSK Audit. OSK are the official audit and accounting partner of the Federation of Irish Sports.
Share this Post