National Minimum Wage increase from 1st January 2016
---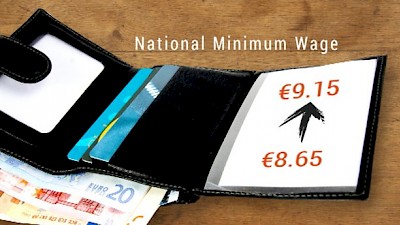 With effect from the 1st January 2016 the National Minimum Wage will be increased to €9.15 per hour for an experienced adult worker (previously €8.65 per hour).
Who is an Experience Adult Worker?
An experienced adult worker is an employee who is not:
under the age of 18 years,
or in the first two years after the date of first employment over age 18,
or a trainee undergoing structured training as defined by the Act.
Who does it not apply to?
The National Minimum Wage rate does not apply to the remuneration of a person who is;
The spouse, father, mother, grandfather, step-father, step-mother, son, daughter, step-son, stepdaughter, grandson, grand-daughter, brother, sister, half-brother or half-sister of an employer, employed by the employer, or
An apprentice within the meaning of or under the Industrial Training Act, 1967, or the Labour Services Act, 1987.
Alternative minimum rates may be set down within Employment Regulation Orders (EROs) of the Joint Labour Committees or Registered Employment Agreements (REAs) created by Employment Collective Agreements between employers and Trade Unions.
Working Hours
Full time, part time, temporary or casual employees are all entitled to the national minimum wage for the following hours worked;
All hours where an employee carries out an activity for an employer including;
overtime
time spent travelling on official business
time on authorised training/study during normal working hours
Excluding;
time on standby/on call away from place of work
time on authorised leave/notice or absent from work
travelling from residence to work or to place of training
Where an employee's hours of work are uncontrolled or unsupervised and their average pay would be not less than 150% of the minimum adult rate, they must maintain written records of hours worked and return these to the employer.
Structured Training
Structured Training must involve;
Study or skilled training aimed at enhancing work performance,
A minimum duration of three calendar months.
The course involves at least 10% of directed study or training, which may be within or outside of normal working hours.
There must be an assessment and certification procedure or written confirmation that a course/training has been completed.
Dylan Byrne is a Director in OSK. Contact OSK accountants for more details on the minimum wage increase or in relation to any tax and accounting matter on  01 439 4200.
Share this Post