Invest in Irish Sport – Change the Game!
---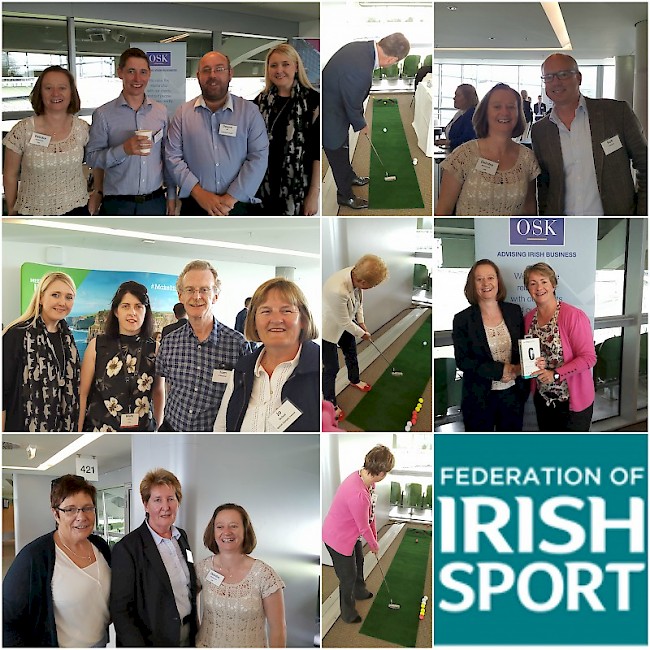 OSK were delighted to attend the Federation of Irish Sport conference which took place in the Aviva Stadium on 31st May. The theme for the conference was 'Invest in Irish Sport – Change the Game!
Keynote address presented by Sara Liebscher Senior Director of Athletics Advancement in University of Notre Dame. Sara oversees the fundraising efforts and operations of all athletics. Under her leadership, an initiative to fully endow all of the University's coaching and athletics and her team is raising funding for the 26 varsity sports.
Under Sarah's leadership the Rock Heritage fund has grown nearly 150% in annual expendable revenue in support of discretionary funding and a new Boathouse Track and Field Facility has been built. She has also been involved in the new $400m Campus Crossroads project.
Panel discussion include Context and Setting out the financial landscape for sport in Ireland-Challenges and Opportunities and also The NGB experience, Case Studies & Key Learnings.
With over one hundred in attendance from a most of the sporting bodies in Ireland, this was an enlightening and thought-provoking day in relation to sports in Ireland.
OSK are proud to be the official Audit and Accounting partner of the Federation of Irish Sport (FIS) and the preferred supplier of these services to the Federation's members.
OSK regularly present to Irish Sport members on a variety of financial topics related to the sports sector. OSK's services includes audit, outsource accounting and payroll, management accounts, budgeting and cash flow forecasting and tax.
To find out more about OSK's audit and accounting services for sporting bodies contact Deirdre McDermott - Audit Director on T 01 439 4360  E mcdermottd@osk.ie. #iresport
Share this Post