Five ways to minimise your tax liability
---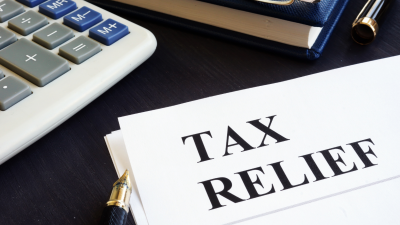 Few of us want to pay more tax than we have to! Consider these five simple tax reliefs to minimize your tax bill.
Cycle to work scheme. This tax relief is available to employees who cycle to and from work. It operates by the employer purchasing bicycles and bicycle equipment for the employees and then the employee reimburses the employer through a deduction from salary for up to 12 months.
Rent-a-room. You can claim tax relief if you rent a room in your home. You must live in your home for one year to avail of this tax relief. You don't have to own the property; you could be a tenant and sub-let to someone else.  The relief does not apply if the room is let as an office.
€500 tax free non-cash benefit in kind. A non-cash benefit of up to €500 in value, tax-free, each year.  The benefit generally takes the form of a gift card or store voucher.  Note that the employer must purchase the benefit to provide to the employee/director as opposed to the employee/director being reimbursed.
Stay and Spend scheme. You can claim the Stay and Spend tax credit for qualifying expenditure incurred between 1 October 2020 and 30 April 2021. Qualifying expenditure includes expenditure on either holiday accommodation or 'eat in' food and drink. The minimum spend is €25 per transaction. The maximum tax credit available under the scheme is €125 per person. Note you must submit a copy of your receipt to Revenue with the claim. The credit is calculated as 20% of the allowable spend.
Pension Contributions Income Tax relief is available against earnings from your employment for your pension contributions. Click here for full details.
To ensure you are using all tax reliefs let OSK Tax Advisers know of any changes to your personal circumstances so we can adjust your tax credits and tax reliefs accordingly.
Share this Post