Enterprise Ireland Brexit Scorecard
---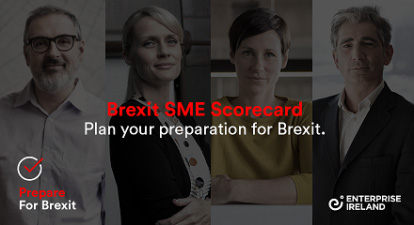 The Enterprise Ireland 'Brexit SME Scorecard' is an interactive online platform which can be used by all Irish companies to self-assess their exposure to Brexit under six business pillars. 
How it works
Once logged in users are asked to complete a questionnaire. This self-assessment tool is designed to be completed by members of a company's management team that have oversight of all operations – e.g. CEO, CFO, COO etc. It takes approximately 15-20 minutes to complete.
Once the survey is completed, a downloadable report is available which will provide you with suggestions for action.
The Brexit SME Scorecard will provide companies with an assessment of their preparedness under six key pillars - Business Strategy, Operations, Innovation, Sales and Marketing, Finance and People Management. The tool is a starting point for SME management teams looking to develop an action plan to help mitigate risks and leverage opportunities which may arise from Brexit. 
Enterprise Ireland Support
While the SME Scorecard is available to all companies, Enterprise Ireland client exporting companies that utilise the Brexit Scorecard will then be able to engage with the agency's experts both domestically and through the overseas offices in global markets. Enterprise Ireland will also provide funding up to the value of €5,000 to exporting clients to support the development of a business action plan. Enterprise Ireland will then work with these companies on a one-to-one basis to support the implementation of the plan. 
The platform can be accessed at www.prepareforbrexit.ie 
For information on any issue related to Brexit including setting up a business in Ireland or on corporate taxation issues please contact Ray Masterson 00353 1 439 4243 or mastersonr@osk.ie.
Download OSK free Support for Brexit Businesses in Ireland guide
Share this Post