Digital Certificates for Certificates of Incorporation from September 2016
---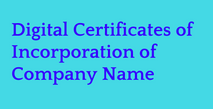 The Companies Registration Office will commence issuing all Certificates of Incorporation of Company Names as digitally certified documents in September 2016. This is the 3rd phase of the roll out of the Digital Certification strategy which was launched on 13 April 2016 with the issue of all Mortgage Certificates as digitally certified documents. Digital Certification of Business names went live on 2 August 2016. 
These digitally certified documents replace the paper certificates posted out to presenters.  They facilitate immediate receipt of certification by the presenter following registration.  They are emailed to customers as a pdf document to the email address entered in the "Presenter Details" section of the application form submitted for registration.  The pdf document contains a coloured banner at the top of the screen to confirm that it has been digitally signed as certified by the CRO. This provides an assurance to the recipient that the document is authentic, has not been tampered with and has been independently verified as sourced in CRO.
Presenters can provide these digital certificates directly to third parties by email. 
Contact Deirdre McDermott Director OSK for further details on digital certificates of Incorporation or in relation to OSK's tax and accounting services.
Share this Post